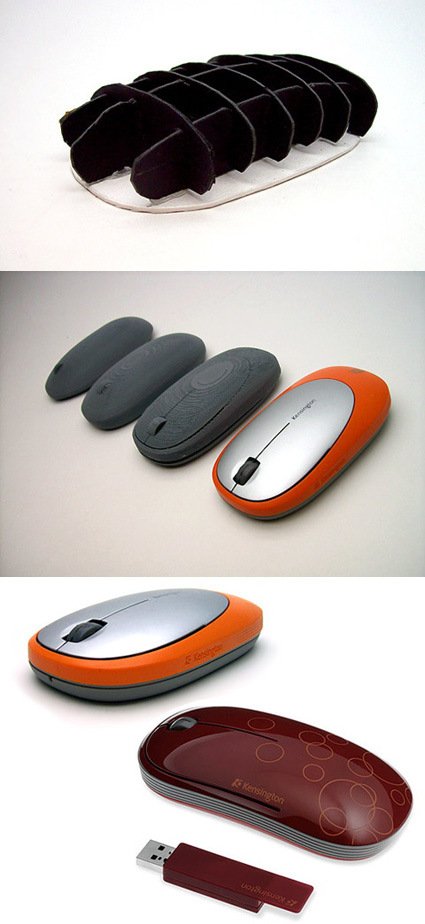 Business Week has a very interesting article on Kensington's design approach to designing a new collection of computer mice. Kensington, being the number 3 computer peripheral maker was likened to Nintendo – both companies are trailing behind market leaders and behemoths (Microsoft and Sony for Nintendo; Microsoft and Logitech for Kensington). The peripherals market is indeed very tough: on the low end, you're flooded with anonymous but cheap offerings, while on the high-tech end, it's like David vs Goliath taking on the big companies with deep financial resources.
But, like in the case of David vs Goliath, there is still hope. For Kensington, the leverage was in a strategic, design-led thinking: the technological race in peripherals are ruthless and yet the consumers appreciate very little of it – they don't see what's under the shell. So why not define a new turf? For them, they engaged the design consultancy One & Co.
Having product designers instead of dedicated researchers conduct the study gave the designers a head start in thinking about the creative problems they'd be facing—and strengthened the research because designers asked questions and noticed details that might have gone overlooked by someone else. "There's an emotional connection that people have to products," Becker told me. As a product designer observing users firsthand, "you're just more in tune to how people interact with the product. You notice how someone holds it, notice all these different subtle interactions," Becker said.
I'd probably have to copy-and-paste the entire article to depict how they engaged in the design process – so you might as well head on and read the entire BW article – for me it's a great case study in strategic-design-led venture. Designers have, or are trained, with a sharpened sense of intuition, observation and connection with users, which are a markedly different view from marketers who may be more quantitative and "big picture" inclined. In Kensington's case, it was about the emotion and product experience.
As markets become more saturated and products more undifferentiated, you'd need more than a "we need a new collection of mice for Spring 2008 that is better than our competitors" kind of attitude. What is the X-factor that would set your product line apart, and perhaps as (if not more) importantly, how do you get to the "X-factor"? And do it consistently?