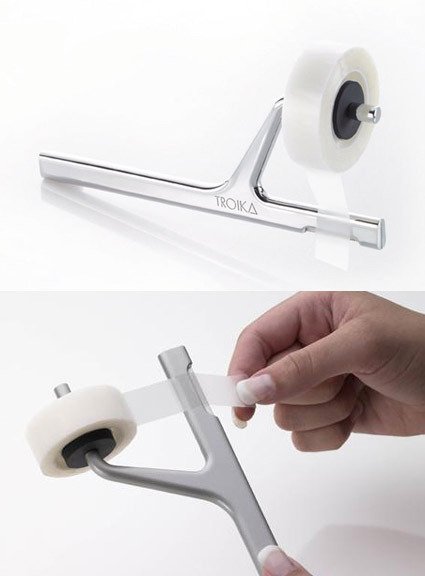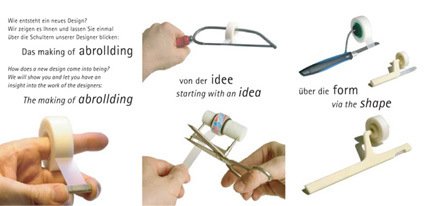 The Troika tape dispenser attempts to break away from the norm – we typically see either the big-bulky desk-bound types, or the disposable light ones that comes with the tape itself. Seemingly alluding to the musical tuning fork, the design is extremely neat and delightful, while shattering the previous stereotypes of tape dispensers. It has even won quite a series of design awards, including the Good Design Award from Japan in 2006.
But how well would it work?ROGER LiVE has a not-so-concise but certainly impassioned plea for its thoughtlessness:
Well, until you actually try and use this beautiful thingamajig: Firmly grip the handle with one hand, stick the roll of tape onto the rubber core with the other hand, place the poster with your company's goals (or whatever) on the wall with your free hand, try and get it level, hold it firmly in place, realise you have no hand left to pull off a strip of tape, try and hold the poster with your little finger and your ring finger while pulling off the tape with the other fingers, drop the poster on the floor, swear a little bit, pick the poster up, place it on the wall and get it level again, hold it in place with your elbow, notice the poster slipping away, swear a bit more, decide to rip off four strips of tape first, stick them onto the cupboard next to you, put the adrollding aside, get the poster level AGAIN, pull the strips off the cupboard, remove half of the varnish while doing so, try and fix the poster with the bits that aren't full of varnish, swear at the abrollding and decide to give it to some poor colleague when it's time for Secret Santa.
What's your verdict? Is it a good design (perhaps for shattering conventions with a fresh new form in return), or would you crucify it for its not-so-usable design? Or maybe you can actually do a better one! (This is probably another JuicySalif-like discussion). Sad to say though, this is now discontinued.