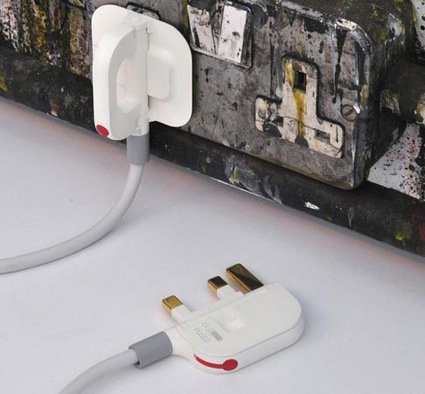 This concept design for the UK plug's been making the rounds round the web like wildfire – probably as a testament to how much people loathe the big, fat bulky UK 3-pin plug. Here's how it works:

It's a concept design by designer Min Kyu Choi.  There are certainly still many technical issues to resolve – putting numerous moving parts and hinges into that small an area will probably require a hell lot of (costly or difficult?) engineering to realize in a large-scale, cheap manner; the live wire looks really perilously close to the neutral wire in the assembly, etc. The final comparison for the 3-way plug was also somewhat unfair as the bulkiness of the plug-heads were also due to the transformer-circuits (e.g. in Apple's plug).
That said, I loved how the design has approached this prickly problem and tackled it with an elegant and innovative solution (loved the fuse idea – makes it easier to change too!), while still maintaining the compatibility with the current sockets. Kudos to the designer!